Welcome to Premier Advantage Marine
Premier Advantage Marine offers new Stingray Boats, iKon Bass Boats, Alumacraft Fishing Boats, Montara Boats, & Cypress Cay Pontoons. We are a certified full service and parts marina. Offering a seven bay garage at the highway and five bay at the marina with pickup, delivery, and mobile service with the best mechanics at the lake. If it's a part you need we offer a wide variety in stock and if we don't have it our parts department will be happy to order it for you. Our marina location with an indoor showroom, located at the 38.8 MM is the home of the former Lighthouse and Silver Sands Marinas adding not only another location for sales, service, parts & accessories but also adding Gas Dock & Convenience​ Store and Indoor/Outdoor storage with In/Out services available!We keep in stock a variety of accessories including Wet Steps, inflatable docks, floating water pads, life jackets, tow behind floatables, ropes, bumpers, speakers, boat cleaners, and most anything else you need for your time on the lake. For the kids or new boaters every summer, we offer a MO Water Safety classes w/ Mo State Water Patrol. We also participate in all boat shows throughout the year and several local events.
If you're looking to trade, sell it outright, or have us sell it for you we can do that too!
At Premier Advantage Marine our family has over 150 years of marine experience and would like you to come to be part of it.

Stingray Boats – Stingray Boats offers Center Console, Dual Console, and Deck boats! Stingray Boats have been around for over 40 years and is one of the leading independent boat builders in the industry and their Z-Plane Hull design giving you the ride you've been looking for! Hartsville, South Carolina is home to Stingray Boats, with over 225,000 square feet of manufacturing space, Stingray boasts of one of the most technologically advanced facilities in the country. Our state of the art robotic driven production is responsible for some of the most award winning designs available on the market today not to mention quality that is literally "engineered in." Check out more at Stingray Boats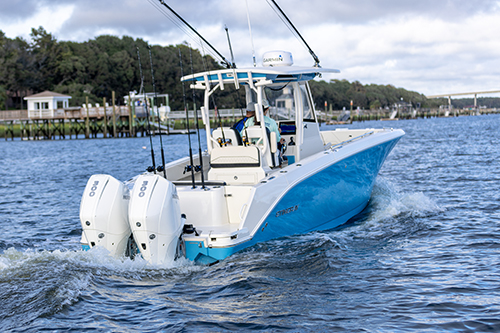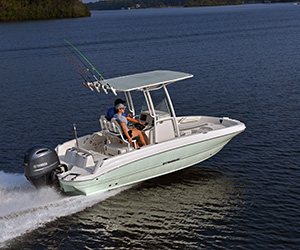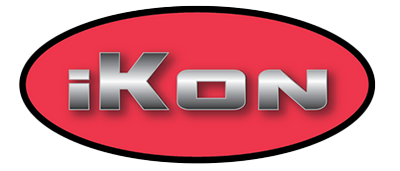 iKon Bass Boats – History redefined in a new generation of Bass Boats and here to PUSH LIMITS of what a bass boat can be capable of! Made by HCB Luxury and Fishing Yachts with Jacob Wheeler. As a tribute to the original Hydra-Sports Bass Boat that graced the waters almost half a century ago, HCB Yachts proudly introduces the new iKon Boat Brand to the market place with their first LX21 and LX20 Editions. The World is now revolutionized with a patented "L2" Livewell system to protect fish. Setting new benchmarks in manufacturing, quality, and fishability not to mention the largest platform and storage in the industry due to the "iKonic Terrain (IT)" design because size matters in fishing! Check out more at  iKon Boats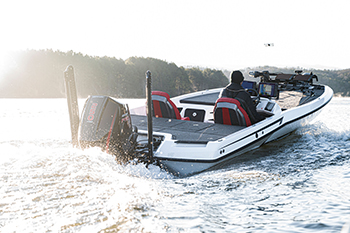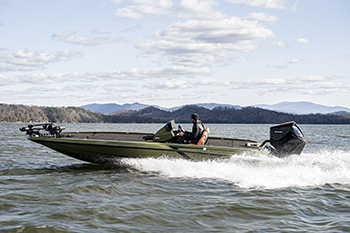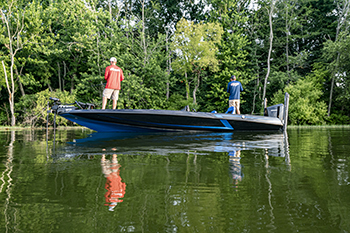 ALUMACraft – An ingenious idea meets a passion for design, the Alumacraft brand was born, becoming one of the very first aluminum boat manufacturers in the United States. Focusing on the decades of craftsmanship and expertise our workforce had developed in manipulating aluminum to shape our early boat models, we began producing stretch-formed hulls, consisting of two sheets of aluminum. Our track record of design innovation and focus on the customer experience, coupled with our talented, dedicated workforce, mirrored the attributes that have brought success to BRP. This made Alumacraft the perfect choice for the powersports manufacturer as it created its new Marine Group. Everything from aerated livewells, ALUMATRAC mounting system, digital displays, and helm configurations the ALUMACraft Advantage gets you ready for the water and keeps you out there fishing longer! Check out more at Aluminum fishing boats, Jon Boats & Bass Boats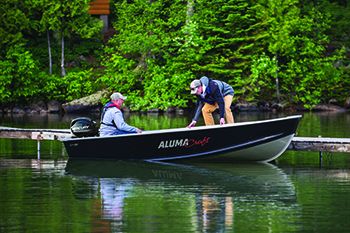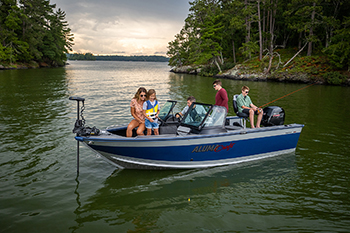 Montara Boats – OUR MISSION- Redefining the way you spend time on the water. We are surfers, wakeboarders, water skiers & pontoon cruisers. Our inspiration comes from the passion that we have for time on the water and for doing the same water sports that you enjoy. Our leadership team has over 110 combined years of industry experience. The ultimate fusion between the luxury of a pontoon and the performance of a water sports tow boat. CAPTAIN'S VIEW DESIGNED WITH THE CAPTAIN IN MIND. Our helm offers key captain's seat features for anyone behind the wheel.​ Raised Helm, 12″ Touch Screen, Cruise & Ballast Control, Custom Wake Profiles, Remote Battery Switch, Audio with 4 Zone Control. The Surf Boss 2.0 is designed with versatility and performance in mind maximizing your fun when spending time on the water. A unique feature to the Surf Boss Family is our Basement Storage. Allowing you additional storage space for covers, life vests or any other storage needs that will keep your items safe and out of the way. WAKE TECHNOLOGY, Our proprietary hull & tab systems are engineered to shred. The Surf Boss 2.0 ​combined with the best attributes of a high end pontoon boat and a high end wakeboard boat. Get the room, ride, storage, and ease of entry of a pontoon boat along with the handling and wakes of a tow boat. Truly two boats in one. New to the Montara Family, the Naxos Pontoon. The Naxos Pontoon brings a new perspective to luxury on the water with new features and options exclusive to our pontoon line, along with a full length solid keel designed to give you the smoothest ride on the water. Built with three 26″ tubes enforced with a full length solid keel using .25″ C Channel and I-Beam Crossmembers, the Naxos Pontoon makes rough days on the water a smooth cruise. COMFORTABLE SEATING FOR FIFTEEN Here at Montara we believe the more family and friends you can bring with on your cruises, the better. Find out more at Montara Boats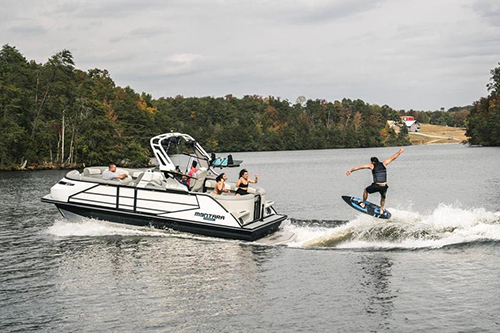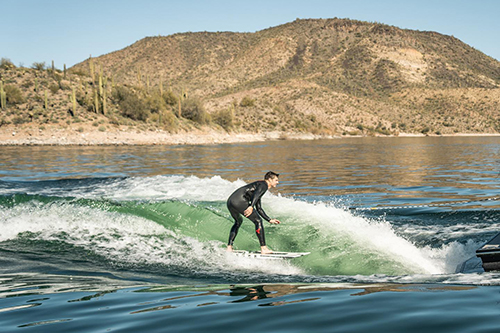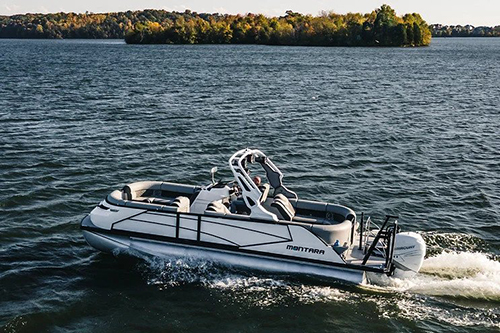 Cypress Cay Pontoons – In 2021 Premier Advantage Marine became the #1 independent Cypress Cay dealership in the U.S. Cypress Cay boasts several top-of-the-line manufacturing processes that make it one of the best-built pontoons on the water. All Cypress Cay tubes use a full-length mounting bracket on the outside of the tube, providing a structure that absorbs and distributes the forces of rough water. A four-step water intrusion prevention process ensures water will not penetrate the deck seams. This method features butyl rubber tape on every deck joint and a polyurethane sealant in each deck groove. Each tongue gets inserted into a groove and covered with more polyurethane sealant for a leak-proof seal. Unparalleled safety, top notch warranties, incredible comfort, versatile performance and incredible style make the Cypress Cay the easy choice for your next pontoon or triple toon!